Company Profile
Home Page | Directory | Special Offer
This coming winter we will be in Florida. My shop will
be closed from the end of September to May.
Thank you.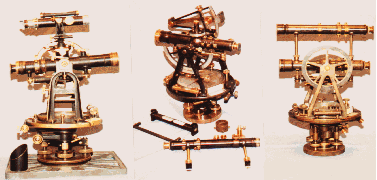 About what I do.

I have an extensive collection of surveying instruments, and optical
tooling equipment that are available for sale. I am no longer accepting any
instrument repair, restoration, calibration, or machine work.


I do not accept consignments, please don't ask me to sell a instrument for you.


I do not do appraisals or give values.
F
or
values of a instrument
it is best to watch ebay "completed auctions" over several
months seeing sales not relisted but sold. "Ended" prices are useless at best.. "Sold"
prices are what you can go by. What things are listed for is often very unrealistic.
I am not able give a value for a instrument.
Business hours are: 9:00 AM to 5:30 PM EST
Monday through Thursday
Email to: robert@antiquesurveying.com
Home Page | Directory | Special Offer